Email Outage Protection
Access your email via the cloud even when outages happen.
Live Archive: Uninterrupted access to live and archive email.
Email Continuity keeps employees sending and receiving email without disruption.
The Current SMB Challenge
82% of small businesses experienced at least one unplanned service outage within the last year, with most reporting an average of two per year.
We understand that unplanned service interruptions cost small business millions of dollars in time and money every year. Service disruptions leave organizations unable to deliver to their customers, which overall business operations, and most importantly, harmful to the business-to-client relationship.
Our Solution: Email Outage Protection
We offer our clients the assurance of being able to send, and receive email communications even when they are experiencing in-house IT downtime.

ExchangeDefender's Live Email Archive provides organizations the ability to access their emails via the cloud even when network outages happen. Live Archive is the right solution for any organization that is looking for overall email resiliency because it is always on, easy to access, and requires no install or download ensuring business continuity.
Learn More
Benefits of Email Outage Protection
Explore key productivity features that keep your emails coming no matter what.
How it works: LiveArchive Process
As you send and receive email, we make a copy and store it on our network – when you experience an outage you can pull up a webmail system on your computer, tablet, or phone and continue where you left off.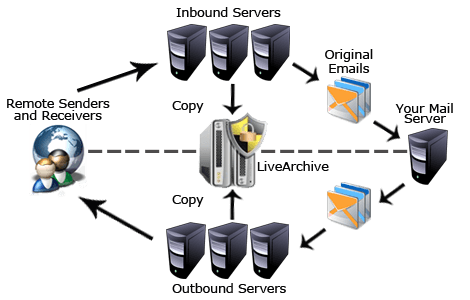 There is no software to install, no MX records to adjust, and nothing to tweak or maintain – ExchangeDefender does all the configuration and replication automatically. Your Live Archive mailboxes are always on, always available, and accessible securely via SSL encrypted webmail or IMAP.
Outages: Some are planned and some just happen, LiveArchive can help you deal with both. LiveArchive is a replica of your email infrastructure – same email addresses, same passwords, same names – and as mail flows in and out of your organization, each message is replicated and delivered to our extensive redundant email network.
Keep your employees sending and receiving email without interruption.
Try ExchangeDefender's Email Outage Protection solution today, for just $3 per month.*
Learn More