Compliance Archiving
Enables Compliance Officers to review and manage complex government
and regulatory compliance reporting.
Secure, Long-Term Storage
ExchangeDefender Compliance Archive provides secure, long-term storage, recovery and eDiscovery system that assures compliance with regulatory requirements established by IRS, HIPAA, SOX and SEC. Email has taken over faxes and phone calls as the leading communications platform and the importance of keeping a record of all the email communications is catching the scrutiny of local and federal government agencies.
As we use our mailboxes as filing cabinets that contain a ton of business information, ExchangeDefender Compliance Archive provides a fast and secure environment to store, process and index your entire mailbox and keep it accessible for years.
How Does it Work?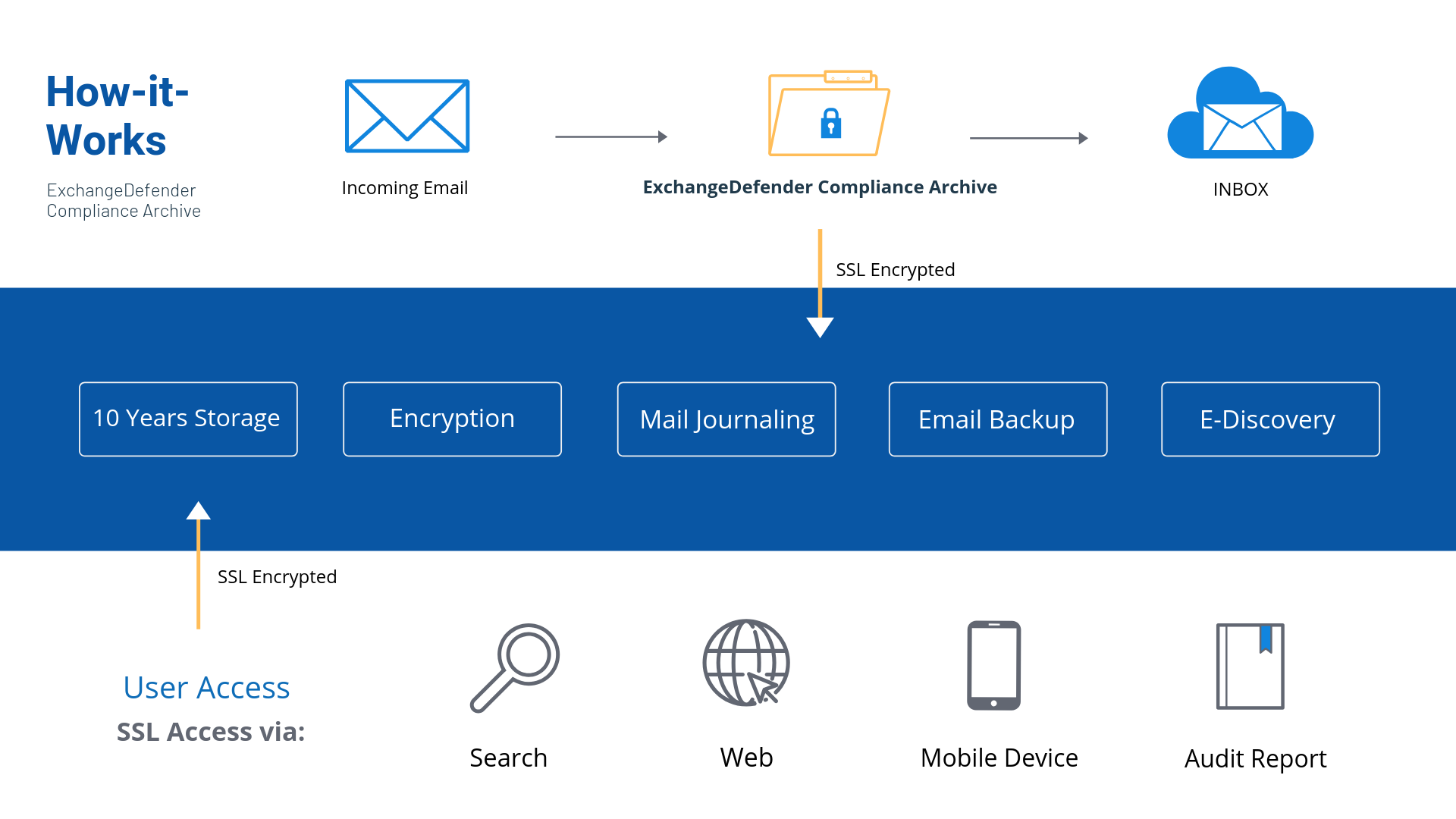 Long-Term Archiving Benefits
ExchangeDefender Compliance Archive was designed to be affordable and scalable. In a segment that is famous for overpriced appliances and expensive specialized software that was traditionally sold to the Fortune 500 only, ExchangeDefender Compliance Archive functionality is provided free of charge and we only charge you for the cost of storage.
ExchangeDefender Compliance Archive uses the latest Microsoft Windows Server and Microsoft SQL Server technology to archive, index and replicate your messages safely and securely. All data is further encrypted and backed up offsite to assure ultimate resiliency in case of a disaster.
Compliance and eDiscovery
ExchangeDefender Compliance Archive is built from the ground up for fast discovery of information - across the organization or just one user's mailbox. Locating a message or attachment with important information is critical to your productivity and the technology is sophisticated and standardized to sustain scrutiny in court.
ExchangeDefender Compliance Archive assures you that none of your messages have ever been tampered with, deleted or otherwise modified. Microsoft Exchange Journaling technology automatically copies every message that enters your system - incoming, outgoing and internal - to ExchangeDefender Compliance Archive giving you full confidence that all of your mail is indexed and searchable from a single secure website.
Unlike similar solutions, ExchangeDefender LiveArchive does not use MAPI connections or external proxies that exclude internal messages - so you will never have to deal with the cost of recovering data from offsite backup services, tapes or old servers.
Corporate Oversight
ExchangeDefender Compliance Archive also provides administrative search and discovery for the entire organization. This functionality is extremely valuable considering most lawsuits in United States are filed for disputes between employers and employees. By enabling managers and business owners to search their staff communication provides for additional oversight and making sure any problems are addressed as soon as possible.
ExchangeDefender Compliance Archive also provides search templates, giving you the ability to quickly locate any messages that may contain personally identifiable information such as social security numbers or credit card numbers.