LiveArchive
Enterprise-grade Business Continuity that is constantly
archiving your sent and received mail!
Enterprise-Grade Business Continuity
Live Archive is an enterprise-grade email continuity service that lets you resume work after a service interruption, or other technical malfunction. Powered by our custom solutions in multiple data centers. LiveArchive delivers a vigorous and resourceful solution that is secure, reliable and free! The best part of all is that LiveArchive is always-on, constantly archiving your sent and received mail for up to one year. No maintenance or management to worry about in case of an outage. LiveArchive is continuously uploading your mail whether your system is up or not.
What does it look like?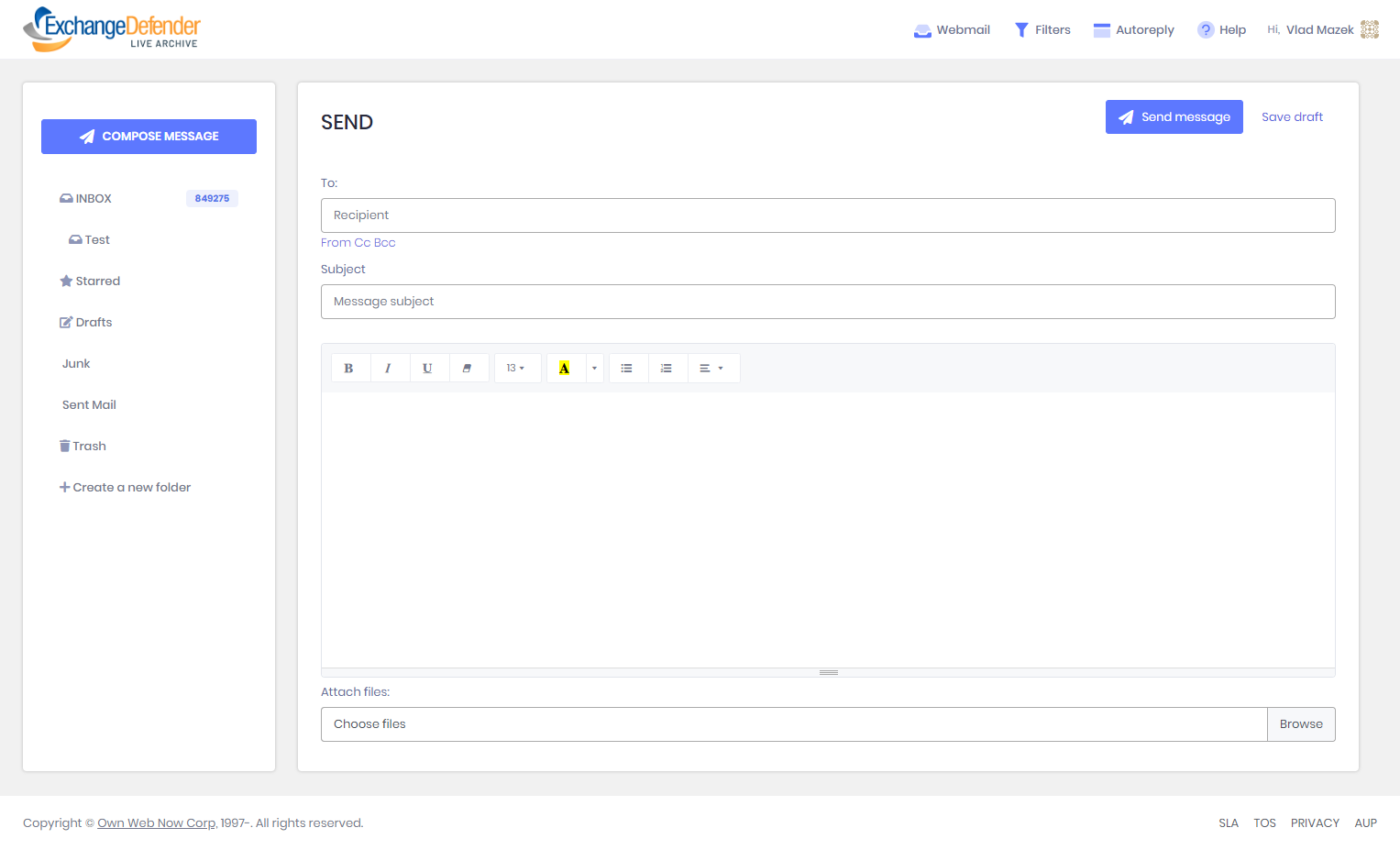 How Does it Work?
It's as simple as typing in livearchive.exchangedefender.com and logging on to your account using your credentials. You are able to send, receive, forward and search, any of the mail that you need which we have rescued for you. Our inbound and outbound servers are simply an in-between step to your email being sent; as it is going to and from your mailbox, your correspondence is being saved in our servers for you later.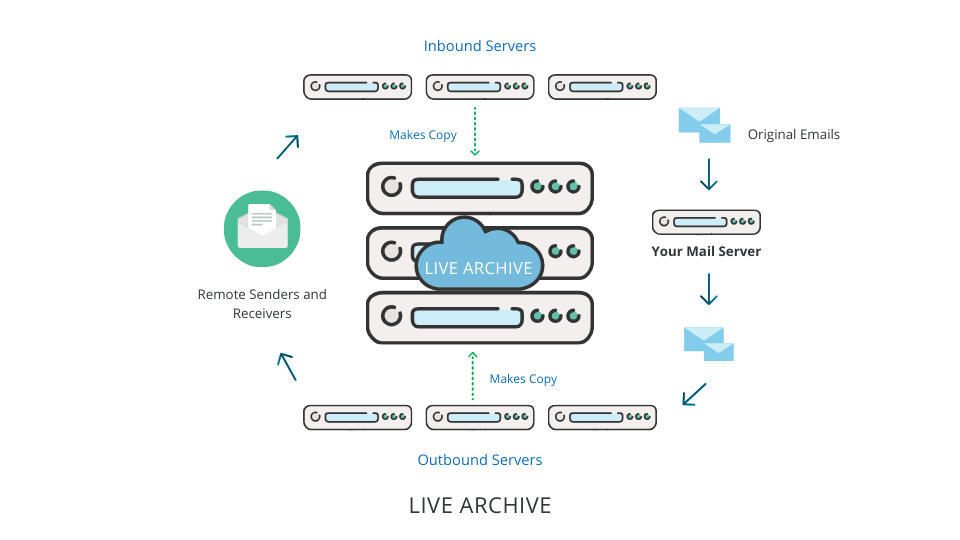 No Training Required
ExchangeDefender LiveArchive is accessible securely over the web through our custom web interface, giving you nearly all of the capabilities you already have with your current email solution. Using a different platform? The look and feel of LiveArchive is easy to use, no matter which platform you are using. The ability to send, receive, forward, and search is very simple and intuitive. Windows or Mac, Internet Explorer or Safari, you'll be able to read and respond to a year worth of emails. You'll be able to schedule appointments, send contact cards, and even create journals and notes in the same way as your original platform.
Protect Your Brand & Reputation
ExchangeDefender LiveArchive is designed to help you preserve your brand and reputation when disaster strikes. Part of your disaster recovery plan is to ensure there is a strategy in place, in the event outages happen; with the aid of LiveArchive and our virus/phishing and spoofing software, you maintain email integrity. Because LiveArchive is transparently integrated into ExchangeDefender, people you correspond with will not receive bounces or rejection notices while your mail servers are offline. Further, LiveArchive is ever-ready, in the event the outage impacts only one user (i.e. corrupted mailbox) they can use LiveArchive while the rest of the organization relies on the mail server.
No one will ever know that you may be experiencing technical problems with your email.
Accessible on the Go
While you can always access LiveArchive through your web interface at your desk you can also interface from your mobile phone, through our mobile apps or by setting up accounts with your iPhone, Android, or any other mobile device. With this IMAP account you are able to constantly be connected to your email and be able to send and receive correspondence through your phone as well as the ability to have access to your contacts and appointments as needed. These applications are highly convenient to those who rarely find themselves behind a desk top. The applications are natively embedded on the device for your convenience so that there is no need to install them. All that needs to be done is switching the LiveArchive file on and you can send and receive things back and forth.
Benefits Beyond Interruptions
ExchangeDefender LiveArchive is primarily designed to allow the business to continue communicating when the internal IT infrastructure becomes unavailable there are many benefits beyond service interruptions. Because ExchangeDefender LiveArchive can hold up to 1 year** of inbound and outbound mail by default, users can rely on it to access mail that may have otherwise been deleted or archived corporate policy. If internal IT staff needs to make service changes and restarts during business hours, users can continue to count on LiveArchive while the servers are under maintenance. For many business travelers that are in corporate environments that prohibit external connections to OWA or do not have a webmail solution at all, LiveArchive provides a fantastic way to be productive and not interrupt corporate policies.
If the outage is for an hour, a day, or even a week, business can continue to work with no interruption.
Privacy and Security You Can Trust
ExchangeDefender LiveArchive is a secure subscription service, so you do not have to worry about your data being indexed to sell you advertising. All connections to LiveArchive are encrypted using 128bit SSL certificates, the same level of security enforced by online banking websites and payroll companies. The solution is actively monitored 24/7/365 and has security auditing levels that are unmatched in the industry. Combined with the proven security and audit controls present in Microsoft Exchange, the #1 collaboration platform in the world, ExchangeDefender LiveArchive provides higher level of security than on-premise mail servers that are often setup with system defaults without tuning and auditing compliance. After all, ExchangeDefender is a security product designed to keep you safe and secure.
Compliance
While LiveArchive is great for business continuity and getting to your email, contacts and calendars, in a pinch when there is an issue, many organizations need to be absolutely certain that their email is archived and accessible and searchable at a moment's notice. For that product we encourage our clients to consider our Compliance Archive solution which archives up to 10 years of email and is absolutely guaranteed to contain all of your previously received messages. In addition to gaining supplement archive access, you are gaining sophisticated data mining tools which allow users and administrators to create unplugged searches that identify data leakage, Intellectual Property theft, compromising information leaving the organization, and many more compliance related activities. It is also centrally managed and contains everything whereas LiveArchive only contains a subset of your information.
*For users that rely on email for correspondence, outbound network will automatically archive all outbound emails. If you have a business requirement that includes sending out notifications, automated responses, marketing, large distribution lists or other non-correspondance items, we offer outbound-jr high speed relay designed for that specific need. Please remember that since this mailbox content can be edited it's not considered compliant.